Douglas County Sheriff's Citizen Patrol
Douglas County Sheriff's Citizen Patrol Inc., is an IRC 501(c)3 charitable, non-profit corporation whose volunteers are dedicated to provide the citizens of our community with a liaison for services in partnership with our Sheriff's Office thereby allowing our Deputies to concentrate on critical law enforcement duties and creating relationships that build trust, a safe environment for our citizens and enhance the quality of life in our community, read more.
Some of the events we respond to include:
Residential Vacation Checks
VIN Number Verification
Handicap Parking Enforcement
Abandoned Vehicle Removal
Special Events
Graffiti Abatement
Lost and Found Reports
Eyes & Ears of the Sheriff's Dept.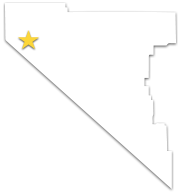 Citizen Patrol is non-profit group made up of trained volunteers that work under the auspices of the Douglas County Sheriff's department.
Under the supervision of the Douglas County (Nevada) Sheriff's Office, the Douglas County Sheriff's Citizen Patrol is made up of about thirty, all-volunteer/non-sworn, uniformed officers who operate all over Douglas County, Nevada, in marked Sheriff's Office Volunteer patrol vehicles. Plus five office Report Writer volunteers. The greatest reward is knowing you're actively helping the Sheriff's Office make Douglas County, Nevada a very safe, secure and a great place to live.
Want to Join Our Team? If you are interested in participating and helping in the work we do, the first step is to complete and submit the application form. Following a background check, we conduct an interview to help us determine where your interests and abilities lie, and where you will best fit into our organization.